DART Trace
DART Trace™ is a shot tracking software and hardware extension for the DART firearms training simulator. DART Trace tracks the movement of a firearm during all phases of a shot: target acquisition, aim, trigger pull, and follow through. Once a shot is made, the shooter's aim point can be replayed in real-time along with various data points, which can be used to analyze shooting performance.
Real-time Shot Tracking
DART Trace™ tracks shots in real-time. In this screen, the green line shows the trace of the aim point leading up to the shot. The yellow line indicates the aim for one second prior to the shot. The blue line indicates the aim point 0.2 seconds prior to the shot (the time it takes to squeeze the trigger). The red line indicates follow-through after the shot has been made.
Use any targets developed in DART Creator
Set and control target distance
Adjust background and menu colors
Adjust volume for gunshots, zone hits, and ambient audio
Assign any command as a hot-key for quick access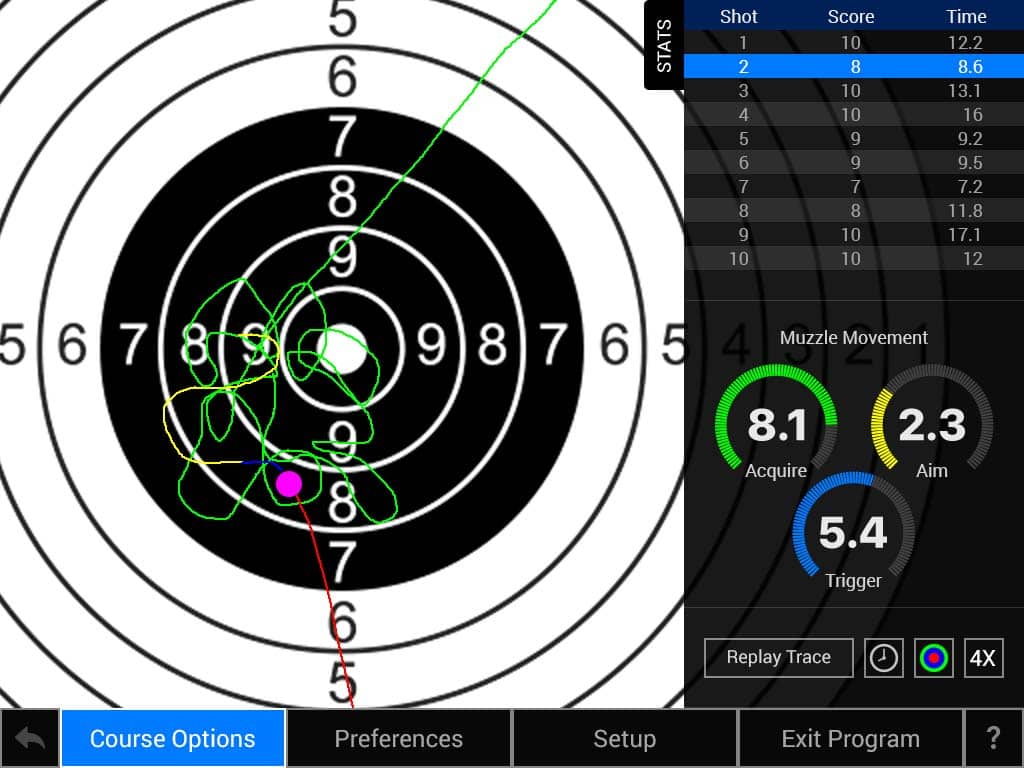 Shot Statistics
After a round of shots is made, details can be viewed and analyzed in the Stats panel. The Stats panel provides detailed information about each shot including, shot count, score, time to shoot, and tracking information.
Tracking information includes information on the aim and movement of the gun during aim, trigger squeeze, and follow-through phases. Tracking information can be displayed as relative speed or as a percentage of time the aim was fixed on specific areas of the target.